There's a loooong story behind the writing of Burnout. For one thing, it
took me somewhere between 10 and 15 years between the conception
of the idea, and the book that's now in work with Twilight Times.

Why? Simple.
I was too close to it.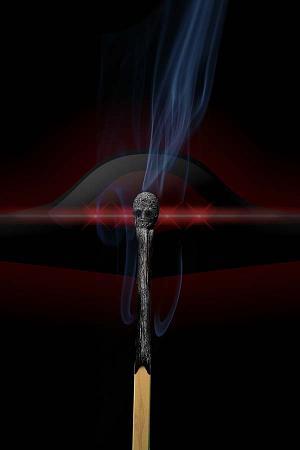 "Matchstick"


Image copyright Darrell Osborn, 2008
You see, I worked in the space industry, civilian and military, for over
two decades. I constructed and modified astronaut's experiment operation
schedules, sometimes on the fly; I trained them, I trained colleagues,
I wrote crew procedures for those experiments. I memorized safety
considerations and sometimes helped out in malfunction procedures.
One hosed act on my part could have meant an injured, maybe even a
dead, astronaut.
And here I was, writing about a Shuttle disaster. The exact thing that
I, as a payload flight controller, did NOT want to see.
It messes with your head, that.
And then, the unthinkable happened.
Columbia went down. And I had a friend aboard her when it happened.
By that time, I had moved out of civilian work into military work, or
my emotional response might have been even worse. But Burnout was
essentially done, at least in first draft - already to my mentor, in fact -
and as it was, I had to put the manuscript away for a good six months
or so - not even look at it. You see, I'd lost TWO friends at one go:
KC, and Columbia; because that was the Shuttle with which I'd worked
the most.
I had just started working in the field when the Challenger disaster
occurred. The program I worked at the time of the disaster was to have
led to a Shuttle mission, and I would have been a Payload Specialist
candidate. Shortly thereafter, the next phase of my project was
cancelled, however, due to the grounding of the Shuttle Fleet. I found
myself moving over into the payload flight contol area, and learned a lot.
The seeds of Burnout began as a conversation between colleagues
and myself concerning certain abilities of the Shuttle. It does have an
autopilot, and a certain very VERY limited amount of remote control capability.
We began discussing under what circumstances a Shuttle could be damaged on
orbit and still manage a reasonably safe descent. (And yes, this did require
considerable knowledge of the guts of a Shuttle. Betwixt us all, we did
manage to possess the requisite knowledge, though no one person had the
whole picture.) I don't know that we ever did come to a consensus of
whether or not it was possible, however.
But that was the birth of the idea. What if I wrote a story about a
Shuttle accident, and the ensuing investigation? What sort of accident
should it be? Should it cause merely a dangerous, or a catastrophic,
malfunction?
And then the idea hit: What if it wasn't an accident?
And that was when Burnout was born.




"Official" STS-281 mission patch


Image copyright Darrell Osborn, 2010


T-shirts, polos, etc. available from Mystik Waboose Clothiers


August 28, 2008
Lovely new information! With any luck, one of our editors will be free
next week, and the iteration and further polishing will begin! I'm very excited.
I love to write, and to have my first story about to be in print is a
real adrenaline buzz!
For those of you who have been asking, the book will be offered in both
e-book and trade paperback format, simultaneously. Publication date is
tentatively set for Tax Day! April 15, 2009.


October 26, 2008
Editing is well underway on Burnout! I'm getting some really good feedback
and I think it's improving the manuscript considerably. Not to mention,
I've discovered that, while I'm generally an excellent speller, the editors
have discovered one word I consistently canNOT spell right: bureaucrat.
(I hope that's spelled RIGHT this time.)
Last week my promo tour kicked off with Con*Stellation! It went great,
and I had a blast. I got excellent responses to my Burnout reading, from
both fans and other authors. For more details, check out my blog! Next
weekend promos continue with CrisisCon.
I have a MySpace page now. It was originally intended as merely an intro
link page to this website, but after Con*Stellation, it picked up activity.
If you want to check it out, click here.


November 14, 2008
The latest draft of Burnout just went back to my publisher! I have to say,
the editor's comments made it better than ever! He caught some plot problems
I didn't realize I had, because I was too close to it. So I fixed those,
and I'm very happy with it. Hope editor and publisher will feel the same.
As far as I can tell, we're on schedule for an April 15, 2009 launch!


December 15, 2008
Doc Taylor talks Burnout
When we were on a panel together at Con*Stellation, my mentor, Travis "Doc"
Taylor told the story of how he reviewed my original manuscript. I asked him
to put it down in writing, so you could all hear what happened, and here's
his story.
"I remember when Steph sent me her first draft of Burnout. It was before the
Columbia tragedy. I read through it and I recall telling her that I thought she
had hit the nail on the head. Her description of the burn-up on reentry was
very visual and technically sound. Then, while I was reading her manuscript,
it happened! The Columbia burned up on reentry. And, the visual horror
of the accident was almost identical to how Stephanie had described it in her
book. I had extreme horrible chills run up and down my spine.
"However, her depiction wasn't psychic. It wasn't magic at all. Instead, it
was a brilliant analysis by someone who had "sat on console" for NASA for
years and who had the experience to describe the horror of just such an
accident. To top that off, her manuscript was intriguing and fun. You should
give it a read. I read it twice."


December 28, 2008

Hopefully, the last edits have been sent to the publisher! The E-arc
review copies should be produced this next week. Therefore, review copies
should be sent out in the next two weeks! WAHOO!


January 10, 2009

e-ARC out! WAHOO!


December 4, 2010

Burnout t-shirts are available from Mystik Waboose Clothiers!
My husband Darrell Osborn, a graphics artist who does contract work for NASA
as well as the cover art for my books (and a few other people, like Jason
Cordova and Travis Taylor), designed the "official STS-281 mission patch"
which is based on real NASA mission patches and appears on the left breast
front. A contest was held on Facebook for the quotation from the book to be
used on the back of the shirt, and Terry Minton of Clarksville TN won, with
the quotation: "Space is the high ground. Sun Tzu."
Pictures of the shirts and the "mission patch" can be found on my Facebook
pages, on the Mystik Waboose Clothiers Facebook page, and on this page (see
above) and my homepage. To order, email mystikwaboose@yahoo.com. Specify
size and color according to the following:
The Official Shirt is Royal Blue, but Red and Athletic Grey are available on
request. You can order the shirt in unisex sizes Small to 6X and in Ladies
Cut sizes Small to 2X.
For an extra $5 on the back of the shirt, they will print the authorized
quote, "Space is the high ground. - Sun Tzu"
Pricing:
Ladies Ts - Small to 1X - $20; 2X - $22
Unisex Ts - Small to 1X - $20; 2X - $22; 3X - $24; 4X - $26; 5X - $28; 6X - $30


Spring 2011



June 20, 2011

It is with great pleasure that we announce that we have access to POLO SHIRTS.
Our author series of shirts are available in 3 & 1/2 inch designs on polo shirts. The
price for the Burnout shirts in Polo is $5 above the regular price. The Polo Shirt sizes
are S - 4X but no XLTs are available in Polo. Email:
mystikwaboose@yahoo.com


More to come...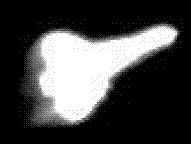 STS-107 Re-entry


Original image by SOR Employees, source CAIB Report, Vol. 3


NAVIGATION
Copyright 2008 Stephanie Osborn. All rights reserved.